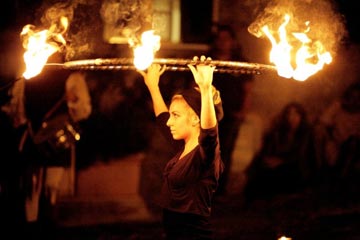 Juggling Events
The events calendar is a real digital calendar where you will find the main events related to the juggling. All users can post new ones. The calendar is divided into 4 categories:
Appointments and Meetings
- These are informal gatherings, those organized to meet, work and generally spend time immersed to juggle and have fun, perhaps in a park, in a square, or in some structure.
Conventions, Events, Festivals
- Here you can find the convention (Italian and foreign), all the big events and the festival of circus art and others things like that.
Shows, tours, Kermesse.
- Well, the title says it all!
Workshops, Courses, Stage.
- Here you can find the courses to specialize in various disciplines circus and street arts or to improve your technique.
Many are organized by circus schools, others by private companies or organizations and associations, working with passion to spread the art behind these skills.
For add an your event into the calendar it's very simply. Click in the Events section from the top menu and click on "Send us an event" filling all the fields that are (title, date, location, description, etc ...).
If you want to check the calendar to find information about a specific event, you can help with the Search for an event, always accessible from the Events menu at the top, and enter search parameters you want.