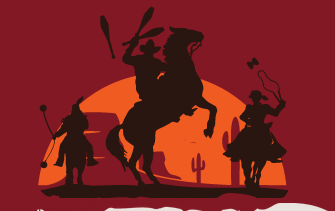 The 28th British Juggling Convention - Jugglers. Wanted, Dead or Alive . . . actually just alive! In 2015, Darton College will, once again, be playing host to the 28th BJC. The British Juggling Convention is a fantastic week of juggling, other circus skills, workshops, shows, games and plenty of chilled out fun.

Running from Friday the 27th of March through to Thursday the 2nd of April, it'll be your opportunity to show off your skills while defending the honour of the Wild West. Will you be a Gold Prospector, an Outlaw or neither? Either way you'll have seven amazing days at one of the largest and longest running conventions in the world.
Due to restrictions on site the first stage coaches can't arrive until 6pm, please don't arrive earlier as our Sheriff's will have to keep you outside until the site is ready.
If you want to become a Deputy remember to contact our This email address is being protected from spambots. You need JavaScript enabled to view it.to see how you can help run those outlaws out of town.
Just to wet your appetite… checkout the video from BJC2014 by Paul Ruddle
If you have a question then take a look at the contacts page to find out who the appropriate person is to talk to, if you are unsure of who the specific person is then please email This email address is being protected from spambots. You need JavaScript enabled to view it.
Hope to see you all there!


Event Information
Opening Times
The site is open from 6pm Friday 27 March. Everyone off site by 3pm on Thursday 2 April 2015.
Site Map
To view the site map for BJC 2015 please see here:
Age Restrictions
All under 18′s must be accompanied by a responsible adult. If anyone under this age is attending without their parents then please complete this parental permission formand bring it to the event.
Proof Of Age
Please note that this year we will have different passes for those under 18 so when you arrive at registration if you look under 25 years of age you may be asked to provide proof of age. Accepted forms of proof of age would be Passport, Photo Card Driving Licence, Proof of Age Card (The card must be part of the pass scheme and carry the hologram.) If the proof of age card is your preferred choice you can apply for the card here
Money
This year we are fortunate to have, for the first time, the option to pay for your ticket either by cash or card by using our paypal card machine. Alternatively the nearest ATM machine is located about five minutes walk from the main entrance to the school, inside the local Costcutters shop.
Lost and Found
All lost and found items need to be reported to the information desk who will both record a list of lost items and collect all found items.
Food and Drink
The school cafeteria will be providing meals all day. There will also be several food vans situated in the courtyard adjacent to the bar.
Camping
Camping space is included in the cost of your ticket. The space is restricted to the areas that are not marked out sports fields. It is advised not to pitch tents on the top of the hill as it is very windy and last year several tents didn't make it to the end of the BJC.
Campsite Info Hub
If you have a question or need some help please come over to the info point by main reception.
Toilets
Toilets are situated at each corner in the atrium on all levels, in the section between the two sports halls and in the Pavilion. If you spot a problem please report it to the info point straight away.
Showers
There are several changing rooms which have both communal showers and some cubicles with shower curtains situated in the Pavilion. These will be designated male, female and family areas. You will find more in the section between the two sports halls, where there are more toilets and male and female changing rooms with cubicle showers with doors in each area. We had a lot of left behind towels last year, please remember to take yours home with you!
Hard Standing
There will be limited spaces for caravans and live in vehicles. To help us keep a track of the spaces we have introduced a nominal fee for a space. Those arriving at the event without a pre-booked space will have space allocated on a first come first served basis.
Disabled Facilities
If you need to park your vehicle closer to the building then please mention this when you arrive and this may be arranged.
Parking
There is a large parking area within the school grounds, however we found that it filled up very quickly. To help maximise the space we may double park in certain areas. If you know that you won't need your car for the rest of the week then say this to the car park attendants who will send you to the relevant area. Upon arrival at registration we will be requesting contact details for every car parked this is to help us contact drivers if we need to move vehicles.
Litter
The site facilities team will be collecting recycling and rubbish from the collection points on the campsite on a daily basis. Please take the bin bags from the info point when you arrive, more can be taken as and when you need them. Please maintain our reputation for leaving the site better than we arrived by making full use of the bins and recycling points.
Safety and Security
Our profession security team are here to keep us safe from unwelcome visitors. Please help them by alerting them to anything out of the ordinary. If you see any one on site without a pass please advise a member of the security team immediately. BJC has a pretty good reputation for honest attendees however we would recommend that you keep valuable items close to hand. There are a limited number of lockers available should you want to keep laptops and other electrical safely tucked away. Please go to the info point to request access to a locker.
What to Bring
Juggling Props
Tent or live in vehicleSleeping Bag, thermal liner, blankets etc.
(its early spring so be prepared for it to be cold at night)
Camping Roll or Foam Mat or Foam Tiles or Air Mattress or Camping Bed
Torch (preferably a Head Torch, but be mindful not to shine it in people's eyes)
Pillow (or something which can be used as a pillow)
Towel
Shower Supplies (e.g. Shampoo, Body Wash, Soap)
Baby Wipes or Wet Wipes
Deodorant
Daily Change of Clothes
Spare Socks (double the amount you'd normally wear as nothing beats a clean pair of socks and underwear)
Money for items such as food, alcohol and props
Beanie Hat, Gloves and Bed Socks (to wear when sleeping it will get cold)
Toothbrush & toothpaste
Water Bottle or Thermos
Personal Medications
Hot Water Bottle
What NOT to bring
Barbecues
Realistic imitation fire arms
Chemical toilets that will need emptying during the event
No Horses or Dogs
Drugs or other illegal substances
Non Juggling Knives
Glass bottles on the campsite
Phone Charging
There are sockets through out the atrium, however there will be a monitored charging station within the Team Fabulous area.
Filming
Please respect the intellectual property of the performers acts and do not film entire performances.
Where to Stay
There is little or no accommodation close to the school site. Check out Late Rooms for the best deals for rooms at the local hotels.
Useful Contacts
Travel Information
Venue
Local Information