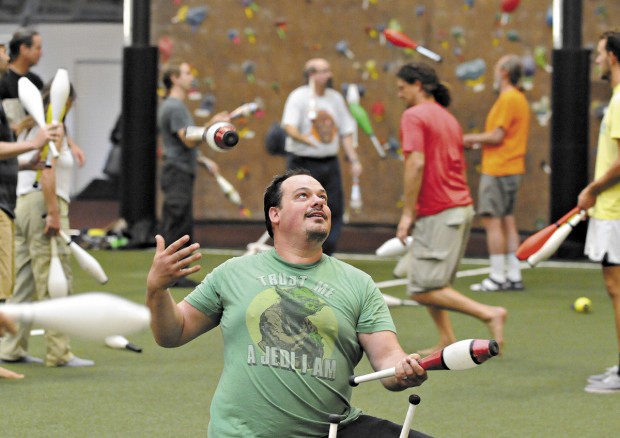 This event will be our seventh festival! It's an informal 3-day event held at Catalina State Park on the north side of Tucson. Accommodations will be camping primarily, although there are some hotels relatively close by.The festival operates entirely by donation, however the park requires a small camping fee. Plenty of time to juggle, hike, juggle, eat (potluck food, but we've never gone hungry), and juggle some more. If you plan on attending it would help us greatly if you email This email address is being protected from spambots. You need JavaScript enabled to view it. with an idea of how many people will be here and your estimated arrival and departure dates (from the Catalina State Park campsite).
We will be doing stenciling again this year, so bring something to decorate (shirt, bag, etc).
Schedule
Friday: Arrive and set up your camp after 2:00pm. Food to be shared will be set out on the picnic tables under the ramada and we will setup a fire.
Saturday: Wake up and juggle! At the end of the day we will hold a raffle with prizes, one of which will most certainly be a quantity of marbles.
Sunday: Slowly pack up while getting side-tracked to juggle with people you didn't juggle with earlier. We need to be cleared out at 2:00pm.
For current weather info, click here.
When: March 27, 28 and 29, 2015
Where: Catalina State Park
Facebook:https://www.facebook.com/events/523507614368737/
E-Mail:This email address is being protected from spambots. You need JavaScript enabled to view it.
Map: https://maps.google.com/maps/ms?msid=206853055981957982091.00046c6ace25138274906&msa=0
Cost: Catalina State Park $15 per vehicle/per night overnight camping fee or $7 per car per day. We operate entirely by donation, so give what you can afford