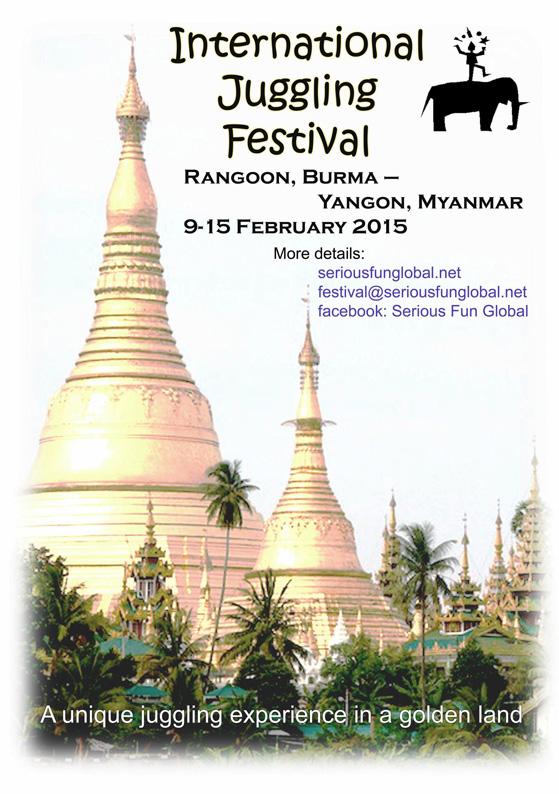 Serious Fun juggling festivals in Laos and Thailand became the stuff of legend because of the locations, performances and the fantastic people who took part. From wonderful and super-talented international jugglers, welcoming local communities and performers, to the big-hearted Serious Fun volunteers who worked hard behind the scenes, these festivals were a celebration of the sense of fun, creativity and entertainment that inspires us all. Now we are planning to create more unforgettable moments with the first ever International Juggling Festival to be held in Yangon a.k.a. Rangoon, the biggest city in Myanmar a.k.a. Burma.
Dates: 9th -15th February 2015
We've long wanted to organise a juggling festival here and here's two main reasons why. Firstly, we want to bring some serious fun to people, especially children who have survived many years of political upheaval, fighting, natural disaster and grim economic times. Secondly, we want to connect local jugglers and circus performers with the international network, to support the work they are doing and to create new opportunities for them. Burmese jugglers were once world-famous – and we think it's time juggling and fun once again took centre stage.
We're now developing plans for the festival and involving local partners and to make sure we can make something special happen in the city next February. Of course we'll have those key juggling festival elements such as workshops and games, plus a free public show in a spectacular setting. If you would like to be involved, as a juggler, performer, supporter or volunteer, please get in touch by completing the form below. We still have a lot to organise but we are sure that together we can create some unforgettable Serious Fun!
Jude
Serious Fun Committee
August 2014
We are planning to go to Burma/Myanmar in Feb 2015. Register your interest below. Space is limited so let us know if you want to come as soon as possible.
http://www.seriousfunglobal.net/current-events/burma-myanmar/