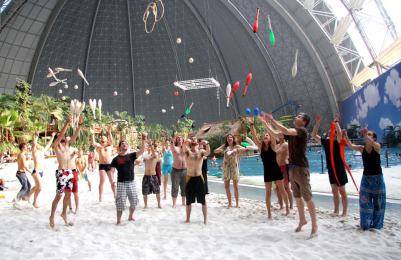 Dear Jugglers, Need a Juggling Convention? Need a break from Winter? Time for your yearly bath? Here's the plan: 13-15. February 2015 we invade Tropical Islands and you can get all at once. From Friday to Sunday we plan to get as many jugglers as possible to meet in the largest dome in the world where it is always 26°C.
New for this year is the group-ticket entry list. Pre-reg to save money with the group ticket, arrive anytime on the Friday, tell them you are on the TII list and your armband will be waiting for you. Important is when you transfer the payment that you include the type of ticket, first and last names of each of the jugglers you order tickets for. Either with the transfer or in an email.
What to expect.
A weekend of barefoot in the sand and swimming in bare-skin temperatures in the middle of winter with all your favourite conventioneers. The sky is sure to be grey, steal grey of the largest dome in Germany that will insure no chance of rain, snow or wind. Bring your shorts/bikini, light sleeping bag and your favourite juggle/water/swimming toys.
Sleeping: There are accommodations it you have the money to spend. To sleep on the beach is included in the group-ticket price. Bring a blanket, light sleeping bag or just sleep under a large towel. It is possible to rent a cushion for the recliners for just a few euro or just occupy one that someone is finished with and has left abandon.
Food: There are restaurants there, bringing your own food is officially not allowed. The best times to enter is when many of the normal people are trying to leave, that is between 18:00 and 20:00.
Workshops: Bring your own ideas like: How to pirouette in sand, acrobatics in water, sand castle building, or what ever you dream up.
Shows: Saturday night Open Stage near near the South Sea and if you want it bad enough, help organize a Renegade.

http://tropicalislandinvasion.wordpress.com/

http://fightnightcombat.com/tournament-Tropical-Islands-2015.html