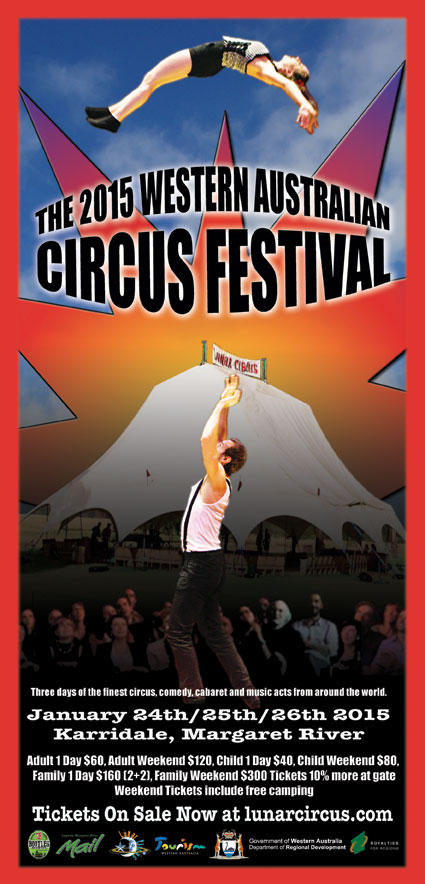 Every January, we host the Western Australian Circus Festival. It's a 3 day event with shows running from midday to midnight each day. There are circus, comedy, cabaret and theatre shows from around the world as well as music, great food, market stalls, several bars, and even a flying trapeze for the adventurous at heart.
Everyone is welcome! Our neighbour kindly lends us his paddock and it fills up with campers who come to enjoy the festival. Camping is FREE with weekend tickets.
Without exception, people who come to the festival for the first time say "I had no idea what to expect but this is absolutely amazing!"
It's a celebration of circus and it's right here in the Margaret River region. See you in January!
24-25-26 january - 2015
Where is the Western Australian Circus Festival located?
At the Lunar Circus site - Vansitart Rd, Karridale, Western Australia. The property is 30 kms south of Margaret River and 350km south of Perth.
Drive to Karridale, then continue 1.7km south. Turn left at Twenty Four Rd, then right at Vansittart Rd. The circus is about 1.7km along the road, on your left. Click here for a map.
Can I catch public transport?
To get to Karridale by bus from Perth, contact South West Coachlines on (08) 9261 7600 or TransWA on 1300 662 205.
Please ring the Lunar Circus on 9758 4174 or Matt Yates on 0439 999 793 to organise pick up from Karridale if needed.
There is a pay phone at the Karridale General Store, where the bus makes the drop off. Please bring some change in case your phone doesn't work with the limited phone coverage in the area.
What about accommodation?
Camping is available onsite from 5pm on the day before the festival for those with weekend tickets. We provide unpowered camping sites, toilets and showers. Please bring your own tent and sleeping gear. Caravans and mobile homes are very welcome, of course.
If you prefer other accommodation, check out some local deals on Wotif, visit www.margaretriver.com or ring the Augusta-Margaret River Tourist Bureau on (08) 9780 5911.
When do gates open for campers?
Gates open at 5pm on Friday, then at 8am on Saturday. Please don't come before then. Thank you for your cooperation.
What are water supplies like?
Water is limited - please bring along a sturdy water container for use at your campsite and bring as much drinking water as possible.
Can I bring my own food?
Absolutely, though there will not be facilities to store or refrigerate food that you bring to the festival so you may need an esky and some ice.
There will be affordable, tasty food available onsite prepared by our fantastic circus chef in the Dr Reg Bolton Bar.
Medications that require storage will be accommodated.
Can I bring alcohol?
No BYO - This is a licenced event.
What will the weather be like in January?
January is one of the hottest months in the Margaret River area with the highest temperatures up toward the 40C mark, but seldom higher. The average maximum temperature is about 28C. Please make sure that you stay hydrated and drink lots of water. It can still get cool in the evenings, so make sure you bring along some jumpers and extra blankets too.
Are we allowed to have open fires?
No, the fire ban season is in place.
Can we bring our dog?
No dogs or pets are allowed onsite.
What recycling facilities are available onsite?
There are recycling bins located around the site. Recycling bins will be clearly marked - please do not mix recyclable materials and remove all of your own non-recyclable waste.
What about money onsite?
Unfortunately EFTPOS is not available on site.
The closest EFTPOS terminal is at the Karridale Tavern, and EFTPOS is also available in Augusta and Margaret River.
I'd like to help out, can I volunteer?
Helpers before, during and after the Festival are always needed. During the festival, our volunteers work for 9 hours in exchange for their weekend ticket, which includes camping. Volunteer applications open 1st July 2014.
Is there contact with the outside world at the Lunar Circus site?
The property has Telstra mobile coverage, and a pay to use wireless internet access.
What can I expect at the Festival?
Circus shows are performed from midday to midnight on all 3 days of the festival. Our performers come from all over the world and perform every circus skill you've ever heard of (and more) in both large and small troupes.
There are funny shows and moving shows, short shows and long shows, award-winning incredibly polished shows and debut shows, shows for kids and shows by kids, aerial shows and ground shows, heart-stopping shows and "I can't believe he can do that!" shows. There is even the Circus Olympics – you will not believe your eyes when you see what some of the competitors can do.
In the high dive act, circus daredevils leap from a 16m high pole into less than 3m of water! In the late night adults' only cabaret, those same daredevils, and others, appear up close and personal.
Live bands play for most of the day and take you dancing late into the night. There are several bars around the site, including our recently launched "Half Cut Bar" which involves a double decker bus. "Wow!" is what people say when they see it.
Workshops start at around 9am and continue for most of the day. Have you ever had a go on a Flying Trapeze? This is your chance.
There are market stalls and food stalls with everything for sale from beef, fish and tofu burgers to wood-fired pizzas, coffee, cakes and a delicious salad bar.
There's a big top and a little top. There are small, intimate venues and big, outdoor venues. Every year we improve and increase our venues – look out for the new beach bar and the lovely Pink Flamingo coming this year.
Perhaps best of all, there's a delightful feeling about the festival. Everyone is happy, relaxed and having a great time. People always tell us, "I had no idea what to expect but this is absolutely amazing!"
What's the age for a child's ticket?
3 - 16 inclusive. One a child turns 17, we consider him/her an adult.
What's the difference between summer school and festival training?
Before the festival we run 3 weeks of training. The first 2 weeks are the Lunar Circus Summer School, and the 3rd week is Festival Training.
The summer school caters especially well to children and beginners of all ages. We run lots of great classes for beginners, and there's even a class for the littlest circus kids, the 5-8's. Having said that, we also do advanced classes, so our teenagers that have grown up in the circus continue to learn new skills. Visiting circus groups from other areas often join us.
Students can do just one or two classes each day, or they can choose the popular 'Unlimited' option, immersing themselves in classes all day. For even more fun, people choose the 'Unlimited Residential' option, which includes accommodation and all meals plus film nights, cabarets and more.
The festival training week is for older children and adults who have some experience in circus. It's not really a place for absolute beginners but having said that we do run lots of beginner classes in the festival training week. If you have never done any circus but you participate in the 2 weeks of summer school, you will be able to participate in the festival training week.
We don't offer individual classes in the festival training week. All students enroll for unlimited classes, and again, there is accommodation and meals available.
Do I have to perform at the festival?
No, we have hundreds of circus professionals from all over the world who will perform during the festival. However there will be some workshops if you would like to participate in something.
Please contact us if you have othe​r questions or queries
- See more at: http://www.lunarcircus.com/