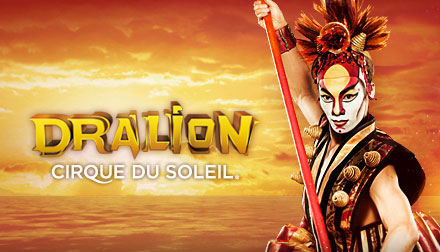 Vladimir Pestov has deep roots when it comes to Cirque du Soleil. Pestov is a juggler who performs in Cirque du Soleil's Dralion, which begins a five-day, seven-show run at the Brandt Centre on Dec. 10. But his connection with the world-famous troupe goes back into his childhood through his parents, Natalia Pestova and Alexander Pestov.
The couple has spent the past 15 years travelling the world as performers with Cirque du Soleil's Quidam - including a stop in Regina in 2012 - with Vladimir accompanying his parents on many of the trips.
Although he did attend college in Russia for three years, the 20-yearold Pestov was quick to answer the call when Cirque du Soleil offered him a contract 18 months ago.
While his parents enjoy their roles with Cirque du Soleil, the decision to accept or reject the contact offer was Vladimir's alone. "It was solely my decision," said Pestov during a recent promotional stop in Regina. "I was actually talking to a lot of people and I was thinking that juggling is an easy task amongst artists but I found out it was actually the opposite. For me, it felt natural and my parents were very supportive. "I wanted it, I wanted it bad and they were there to support me."
Pestov's parents perform the hand-to-hand statue act where they execute remarkable feats of strength and flexibility while maintaining contact throughout the performance. Pestov didn't follow in the performance footsteps of his parents, however, deciding to focus on juggling which he taught himself when he was 12.
So how does someone teach themselves how to juggle? "Well, you pick up three balls and you start noticing that you can catch them once in a while and then it becomes a routine," Pestov said with a chuckle. "You just do it, it's repetitive."
When he joined Cirque du Soleil, Pestov was sent to Ukraine where he underwent specific juggling training. His act, which combines juggling with dance and music, is scripted to fit into the Dralion story but Pestov is given the flexibility to build on that foundation and make the performance his own.
"We have the basic concepts. I work with a creator, a choreographer as well as a technical juggler who puts up a set of tricks that we evolve into something different according to what I can do, compared to other performers. That makes it unique to Cirque du Soleil and to me," said Pestov.
"It took a while to get to that point but it always evolves. Basically my act is always changing. Six months ago it was a bit different than it is now. It's evolved into a more comfortable state for me and more comfortable state for the audience to watch. It's more tight and elaborate and forward thinking."
Dralion, which is in the latter stages of its farewell tour, combines the 3,000-year-old tradition of Chinese acrobatic arts with Cirque du Soleil's multidisciplinary approach. With 50 performers from 19 countries, Dralion has played in 150 cities over the past 15 years.
Dralion
Cirque du Soleil 7:30 p.m., Dec. 10, 11 & 12 4 p.m. & 7:30 p.m., Dec. 13 1:30 p.m. & 5 p.m., Dec. 14 Brandt Centre