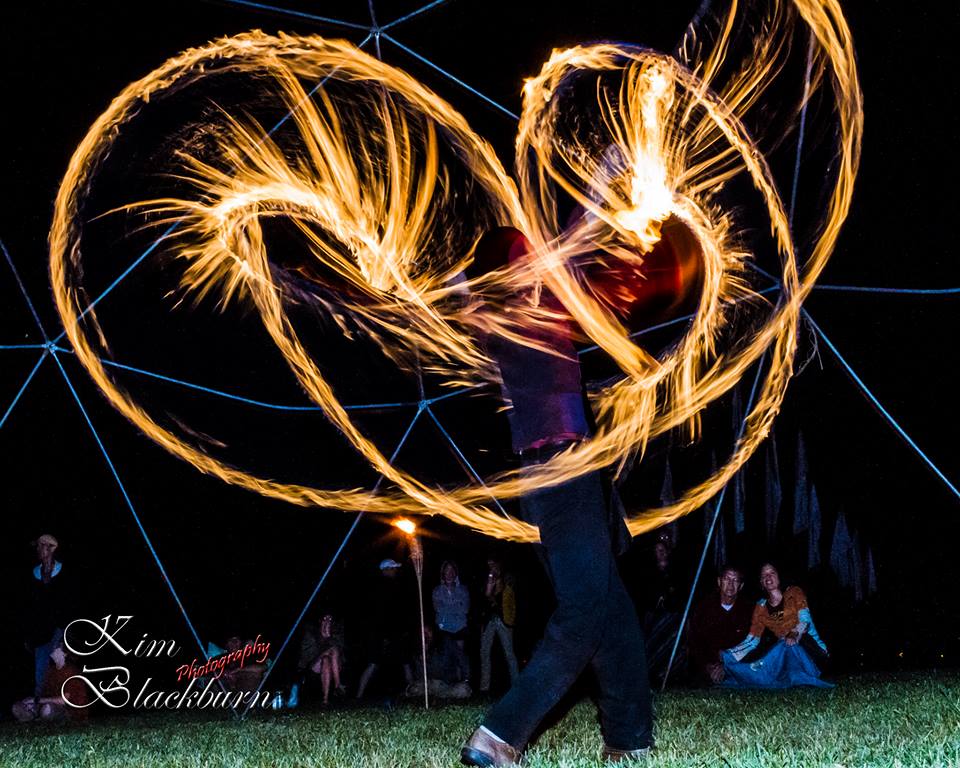 PlayThink is a family friendly celebration of Art, Sustainability, Music, Performance, FLOW, and Life itself. The PlayThink Movement is an inclusive, participatory, community and family oriented culture of vitality, fun, and well-being, rooted in the belief that each of us has the power to re-shape our own experience mentally and physically to live life to the fullest.
We co-create a space to explore and express ourselves through movement, skill-prop manipulation, and art.
The PlayThink Festival offers an atmosphere of magic, letting you experience dance parties, circus camp, and four full days of play just for you and yours.
Inspiring playshops, presentations, and discussions will be led by some of the best known flow arts regional instructors.
Musicians, Dancers, Artists, and Lovers of Life will converge in Berea, Kentucky with their full range of unique talents offering a wide range of life enhancing skills and thoughts.
June 10-14, 2015
HomeGrown HideAways
Berea, KY
WHAT TO BRING
• Tents & Camping gear
• Watch/Reliable Time Piece: Cell phones tend to die due to lack of service
• Bowl, Plate & Cutlery for Community Meal
• Water, and water bottle. (There is drinkable water on site! We recommend at least one gallon per person per day)
• Safety Equipment: first aid kit, sunscreen, bug spray, etc. (If you plan to spin fire, please view our fire safety page.)
• Drums, Didjeridoo, Trumpet: Any & All Musical Instruments
• Yoga Mat & props
• All your Flow toys: poi, hoops, twins, fans, clubs, unicyle, skate board, roller skates, LED, glow, & fire gear!
• All your favorite costumes!
• Multiple pairs of comfy shoes
• Clothing/Gear for all types of weather: umbrella, rain jacket, rubber boots
• A good friend to share the experience with!
• A good attitude, and an open mind.
ACCOMMODATIONS
Camping at HomeGrown HideAways is included with PlayThink admission. For your convenience, there is a bath house with flush toilets and solar-heated showers. However, we ask that you please leave your pets at home or visit our friends at Durham Kennels.
For those of you not interested in camping, there are several possibilities for lodging in Berea. You can find out more information here: http://www.berea.com/lodging/
WHAT TO REMEMBER
Capacity to PlayThink is limited. Pre-sale tickets will only be available as capacity permits, or at NOON
on Tuesday June 9th, 2015 (whichever comes first!). If not sold out, tickets will be available at the gate. Only cash will be accepted due to lack of internet and cell phone reception. Please bring your confirmation receipt to the front gate for admission.
All attendees must wear a PlayThink wristband issued at the greeter station upon entry. Wristbands must be worn at all times during PlayThink. If you do not have a wristband, you will be escorted out of the event. Anyone in possession of a wristband that has been altered in any way will be ejected from PlayThink without a refund.
Gates open at 6:00 pm on Wednesday June 10th. No one will be allowed on the premises until this time. Campers need to be off the property by 6:00 pm Sunday, June 14. The gates are only open from 7:00 am to 2:00 am daily. If you expect to be arriving past 2:00 am please make prior arrangements with PlayThink staff. If you do not make prior arrangements and show up past 2:00 am you will not be able to enter PlayThink grounds.
FOOD
Your ticket to PlayThink includes one planned community meal: brunch Sunday morning. The Community Meal will be provided by the accomplished Lauren Ward who is magical in the kitchen. The community meal will be primarily local, organic, and vegan. We will also have food vendors on site providing coffee, crepes, fresh juice and other scrumptious treats. We suggest bringing healthy food and plenty of water to nourish your body for this fun weekend.
RULES
• No glass
• Leave no trace! If you pack it in, pack it out! Please bring extra trash bags for yourself.
• In order to promote a healthy and family-friendly atmosphere, the use of alcohol is highly discouraged at PlayThink.
• Anyone 17 and under arriving without an adult will be turned away at the gate. Children 6 and under are free.
• Anyone 15 and older will be charged the full admission fee. There will be workshops available for ages 6+.
• Please leave your pets at home or schedule a stay for them at Durham Kennels, just 8 miles down the road. If your pet is not a certified service animal you will be turned away, no exceptions.
*** We ask that you be responsible for yourself and respectful of other PlayThink participants.
Though there will be loud music and late night fun, this is a family friendly event focused on community and growth. ***