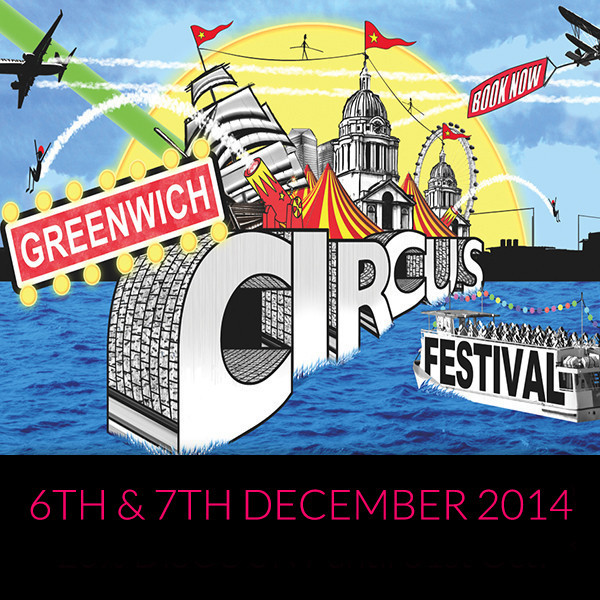 The day session has something for all ages. We have plenty of scheduled performances to sit back and enjoy including a clown show, our incredible Circus Ninjas presenting two specially devised 10 minute shows and 'Circus of Dreams' is the finale of our daytime programme, a circus spectacular with a cast of adult performers alongside our outstanding youth circus students ages 11-17.
We are offering free workshops in Flying Trapeze, Juggling, Static Trapeze and Acrobalance for everyone who buys a day ticket ... this year we are limiting workshop places so you will need to book your place for each workshop you wish to attend. We'll have food, a licensed bar, a circus games room for kids aged 5 and under, and of course a giant inflatable bouncy slide!
Once you have purchased your day ticket please visit this page to book your place on our free workshops.
Scroll down for detailed programme of events including workshop schedule. Have some more questions ... CLICK HERE FOR OUR GREENWICH CIRCUS FESTIVAL FAQ (FREQUENTLY ASKED QUESTIONS)

EVENING PROGRAMME
Doors open 18.30
The evening session begins at 6.30PM with performances from our adult full-time students. We are very proud to be running two full-time courses this year at AirCraft Circus ... the AirCraft Circus Foundation Course in Circus Arts and our brand new AirCraft Circus Level 2 Course. Both courses place a big emphasis on act creation and performance skills and these shows at Greenwich Circus Festival are the product of our students' 15-weeks of blood, toil, tears and sweat at the hands of the AirCraft Circus trainers. Those of you who have seen our full-time students perform before will know we expect some seriously high standards from these guys and this year will be no exception. Prepare to be impressed!
Next up is the AirCraft Circus professional company, the same team behind the recent critically acclaimed run of Midnight Circus at Jacksons Lane, with their new circus cabaret created especially for Greenwich Circus Festival ... 'Bon Apetite' a bite sized circus cabaret! Marvel at the neck-breaking antics of our Acrobalance duo, wince as our Aerial Acrobats catch themselves inches from the floor, witness our rather unique aerial hoop act with a roller-skating twist and keep one eye on the fire exit during our trademark fire finale!
More questions? ... CLICK HERE FOR OUR GREENWICH CIRCUS FESTIVAL FAQ (FREQUENTLY ASKED QUESTIONS)
CHILD DAY PASS (2-16YRS) £5
ADULT DAY PASS £15
FAMILY DAY PASS (2 ADULTS, 2 CHILDREN) £35
INFANTS (UNDER 2YRS) FREE
CONCESSIONS DAY PASS(OVER 60S, STUDENT CARDS, GREENWICH CARD HOLDERS) £12
ADULT EVENING PASS £20
CHILD EVENING PASS £8
CONCESSIONS EVENING PASS£16
ADULT DAY & EVENING PASS£28
CHILD DAY & EVENING PASS £11
FAMILY EVENING PASS £50
FAMILY DAY & EVENING PASS £85
There are no concessions available on family or combined tickets as these are already discounted.
Kids workshops are for ages 6-13yrs, adult workshops 14+yrs.

DAY PROGRAMME
Doors open 13.00
| | |
| --- | --- |
| 1.30PM - 2.00PM | Workshops: Flying Trapeze (adults), Static Trapeze (adults), Acrobalance (kids), Juggling (kids). |
| 2.00PM - 2.30PM | Workshops: Flying Trapeze (kids), Static Trapeze (kids), Acrobalance (adults), Juggling (adults). |
| 2.45PM - 3.15PM | Clown Show

 |
| 3.15PM - 3.30PM | Tuesday Ninjas: Show devised and performed by our Tuesday evening Circus Ninjas, ages 7-10!

 |
| 3.30PM - 3.35PM | Special guest Hayley Ingle, Circus artist and AirCraft Youth Circus teacher performing on Corde Lisse

! |
| 3.35PM - 3.50PM | Sunday Ninjas |
| 3.50PM - 3.55PM | Special guest Ali Stranger, Handbalancer extraordinaire! |
| 4.00PM - 4.30PM | Workshops: Flying Trapeze (adults), Static Trapeze (adults), Acrobalance (kids), Juggling (kids).

 |
| 

4.30PM - 5.00PM | Workshops: Flying Trapeze (kids), Static Trapeze (kids), Acrobalance (adults), Juggling (adults).

 |
| 5.00PM - 6.00PM | Circus of Dreams: The finale of our daytime programme is a circus spectacular with a cast of adult performers and our outstanding youth circus students ages 11-17. Not to be missed!
 |
EVENING PROGRAMME
Doors open 18.30
| | |
| --- | --- |
| 7.00PM - 8.00PM | Foundation Course Student Cabaret |
| 

8.15PM - 8.45PM | Level 2 Ensemble Show |
| 9.00PM - 10.00PM | AirCraft Circus presents ... 'Bon Apetite' a bite-sized circus cabaret. |