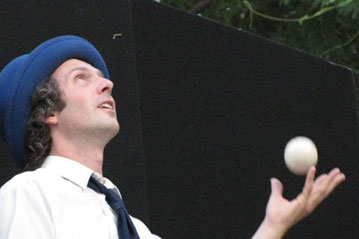 Four years of research and reflection, twenty years of juggling, seventeen years of yoga, three years in the Dimitri Physical Theatre School in Switzerland and at last Anthony Trahair puts his experience to good use in this book of juggling pearls! A relentless pursuit that spans between juggling, art, movement, music, theatre, comedy, dance and yoga.
A book for jugglers – professionals and beginners, teachers, circus performers and the curious.
A book that inspires the reader/juggler to find his own way.
A book that conveys authenticity, awareness, joy, leading to juggling as a performing art form and much more.
To succeed Anthony needs your help!
An example of what you'll find in the book:
How can you perform juggling for longer than 20 minutes without falling into clichés and classic gags?
How can you apply what we can learn from other disciplines without losing the juggling?
How can you open your horizons by discovering the pleasure of simplicity?
How can you reduce drops and use them to your advantage?
How can you find your own original and authentic style?

"This book is not just for jugglers that wish to perform - most jugglers don't start with the intention of performing. The idea behind this book is to access the spirit of juggling performance in your training and creation sessions firstly for yourself. Using your intelligence and curiosity you will suddenly find juggling as an art form. You may also discover you have something to say!"
Apart from printing the book of about 120 pages Anthony needs your financial and moral support in exchange for one or more copies of the book and a group lesson of yoga or juggling or a show at home, or I could direct an act or show or just put a thank you in the book. Since Anthony is investing so much time and energy in this project he wishes it to be aesthetically pleasing too!

Your contribution will help with:

- Professional editing and formatting.
- Illustrations that accompany the text and front and back cover. These are images that suggest and inspire more than describe.
- Translation of the text into Italian.
- Printing it in English and Italian.
- Advertising and distributing the book.
It'll take almost 10 thousand Euros to achieve this.
With your help and that of many other people we can do it !!!
Anthony writes in his native language, English, but the project involves the simultaneous release in Italian. You can choose to have a book in Italian or English or both!
Please join in, take part and share this link with all the people who may be interested!
Thanks for helping Anthony fulfill this project!
The book is scheduled to be ready for the month of May 2015.
About the Author:
Anthony Trahair, was born in London and grew up in Cornwall. He started to throw objects in the air while studying chemistry at the University of Birmingham changing the course of his life! He travelled through Europe and after a few years he arrived in Italy in 1997. Anthony reads and studies books of all kinds, has practised juggling for 20 years and Yoga for 17 years. He attended the School of Physical Theatre Dimitri in Switzerland for 3 years. He has held regular residential seminars in juggling, physical theatre, dance and yoga since 2001. In 2002 he translated the book "Virtuoso of juggling" from Italian into English for Renegade Juggling.
How to make a pledge:
https://www.produzionidalbasso.com/project/pearls-of-juggling-the-book/
1: Click on the "PLEDGE" on the top left of this page;
2: This will open a new page, where you can enter the number of units you want to book. Each share is priced at € 15.00;
3: After choosing the number of pledges you wish to book (always on the same page), please register on the site. You must enter a valid E-mail, a "USER NAME" or a name that identifies you and a password of your choice, you will have to enter it twice. Remember to select the adherence to personal information under the "PASSWORD" field;
4: Enter then your data: name, address, city, state and postal code;
5: Press the "SEND" at the bottom of this page to confirm your booking;
6: You will receive an email confirmation of SHARE. IF YOU DO NOT SEE THE MAIL CHECK THE FOLDER "SPAM". This email certifies the correct proper registration and reservation of pledges!
7: Only when all the pledges of the book are reserved by the supporters, will you automatically be sent an e-mail to your address, with the coordinates to redeem them.
CHOOSE HOW MANY PLEDGES YOU WANT TO BOOK
Note: no advance payment is necessary. At the end of the campaign when all the pledges are taken you will be sent an email asking for payment.